Waterloo Road Realm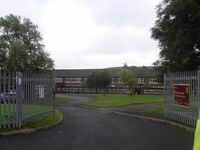 Location Info Info

Edit
| | |
| --- | --- |
| Taken From | Waterloo Road (TV Series) |
| New Characters | Sam, Vicky, Ronan, Lauren, Josh, Finn, Trudy, Tariq, Miss Mason, Donte, Mr. Clarkson |
| Preceding Realm | Mushroom House |
| Following Realm | Las Vegas Realm |
The Waterloo Road Realm is a location in the RP. After, the Mushroom House, on Iona's Home Planet snatched AJ and Bob, the path of light led them to a portal. This led them into Waterloo Road Comprehensive School where they meet a host of new characters.
Events in this Realm
Edit
Mr. Clarkson's Lesson - The group had an English lesson with Mr. Clarkson about Animal Farm. An argument kicked off.
'Tariq - In retaliation, AJ threw the bin at Tariq, which led to a chase down the corridors. AJ and Bob lost Tariq when they arrived at the canteen and hid behind the casserole pot.
The Canteen & Napoleon - During the time in the canteen, Napoleon appears with Marie. Napoleon had demands, but Marie escaped and Napoleon got trampled on by a stampede of school children. After this, the characters went to the cooler.
Miss Mason - Marie had a run in with Miss Mason, the headteacher, after she found Marie wandering round school not wearing uniform and she got angry. Marie got sent to the cooler.
The Cooler - In the cooler, AJ and Bob are reunited with Vicky and Sam. AJ opens a packet of marshmallows and portal appears, they go through it with Sam which leads them to Las Vegas. Marie, then went through the portal and joint the rest.